services.



Capabilities
Shearing
Our projects often start at the shear. Shearing allows us to blank out large sheets and make them more manageable for other operations.
Shears:
Amada H4065, .250" Mild Steel, 4M

Wysong, 10ga. Mild Steel, 4'
Sawing
Here at Kimbow, we use different types of saws to cut bar stock, tubing, extrusion, etc. for various projects.
Saws:
Marvel Vertical Band, CNC feed

Dake Johnson, V-16 Band

Kalamzoo Cold Saw

Kalamzoo Auto-Cut, extrusion saw
Laser Cutting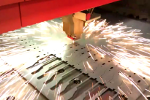 Our lasers allow us to cut unique shapes in materials up to 1" thick with great precision. We are able to "clean-cut" stainless steel which eliminates the black, drossy edge often found after laser cutting. With speeds in excess of 1000 inches/minute on lighter mild steel applications, the laser allows us to get your unique job done quickly.
Lasers:
Amada, 4000kW, Pulsar 2415 AlphaIV NT

Amada, 6000kW, LCG 3015 Fiber
Punching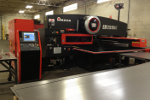 By utilizing our turret punching and strippet capabilities, we can punch holes, shapes, and nibble part perimeters with speed and accuracy.
Turrets:
Nisshinbo HTP, 25 Ton

Amada EM2510 NT

Strippit Super 30
Forming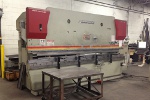 Our forming department consists of an array of press brakes and rollers. For example: We bend small, intricate brackets for precision electronic applications, and we are able to bend heavier metals for material handling projects up to 14' long with our 250 ton Accurpress.
Press Brakes:
Accurpress 6707, 60 ton, 6' bed

Accurpress 710010, 100 ton, 10' bed

Accurpress 717512, 175 ton, 12' bed

Accurpress 725014, 250 ton, 14' bed
Roller:
Welding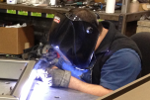 Kimbow employs multiple professional welders that are experienced in MIG, TIG, and spot welding. We specialize in many different materials including aluminum, stainless, and mild steel.
Materials Handled
Mild Steel

Galvanized

Galvannealed

Aluminized

Pre-Painted

Aluminum

Stainless Steel
Value Added Services
Kimbow has strong relationships with many 3rd party companies who can help us add value to your parts!

This includes but is not limited to:
Powdercoating

Wet Coating

Zinc Plating

Anodizing

Silk Screening

Machining